Analysis: Buyers are pushing up the bitcoin price – a breakout seems imminent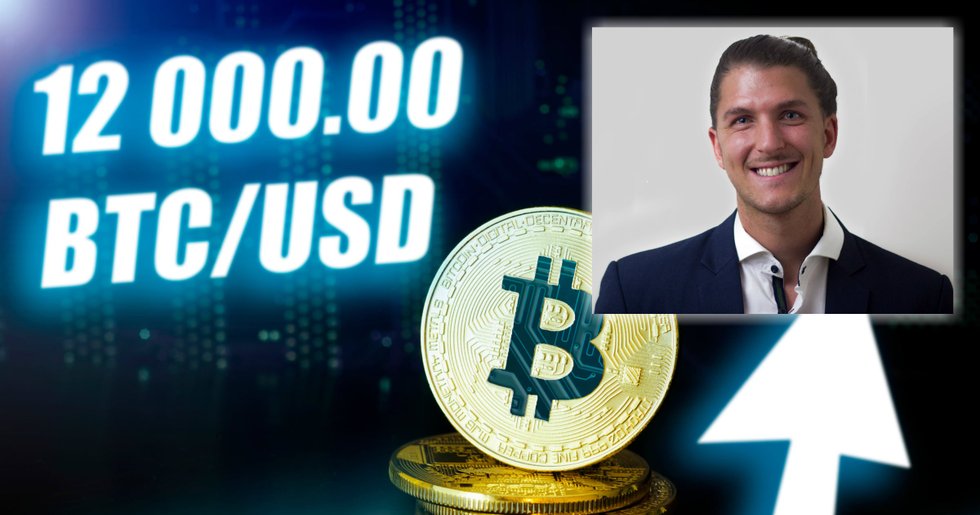 ANALYSIS. In my last post, I wrote that we would probably test levels around $12,000 and $14,000 before making a major correction. Now, the bitcoin price is just under $12,000. Bitcoin's dominance is over 60 percent, which may mean that an alt season is around the corner, Dennis Sahlmström, technical analyst, writes.
Last week, the price of bitcoin opened at just under $11,000. Bitcoin then rallied all the way up to $12,000.
The buyers have pushed up the price even higher and it seems that a breakout upwards is imminent to test previous highs.
The price of a bitcoin is now just under $12,000. However, I would like to see that we close the day over the downward trend line to get a better idea of what will happen next.
There is no need to stress and be driven in by FOMO (fear of missing out). There are always new opportunities.
It feels like I'm nagging about it but it's so true and it's a lesson I have been taught the hard way.
If the bitcoin price breaks out upwards, I keep my eyes on $12,000, $12,500 and not least $14,000. I already have a position and that follows with a "stop loss".
When resistance is broken, we often see that the price tests the old resistances and then we'll see if they have become supports.
When this happens, we will also see if the support holds and can thus take new positions there instead of throwing ourselves in because we are afraid to miss the opportunity.
"It's a lesson I have been taught the hard way"
Should the $12,000 level be broken, the level will most likely be tested again and then it may be a good opportunity to take a position. However, this remains to be seen.
Should the resistances hold, I wait for the shorter resistance to break before I consider shorting and making money on falling prices.
Another interesting aspect is that bitcoin dominance is over 60 percent. Previously, this has meant that we have seen a so-called alt season where we see that all alternative cryptocurrencies bloom out.
For example, ethereum shows signs of increasing significantly, so that is something to keep an eye on.
I think that August will be a month where we see the dominance decrease. I just want to draw your attention to this. It may be worth diversifying a bit.
Dags att börja spara i bitcoin?
Hos Trijo får du Sveriges lägsta avgifter och går från registrering till bitcoin i plånboken på under 60 sekunder.
Kom igång