Wild price movements for bitcoin on its way to a new all-time high – rallied, crashed and rallied again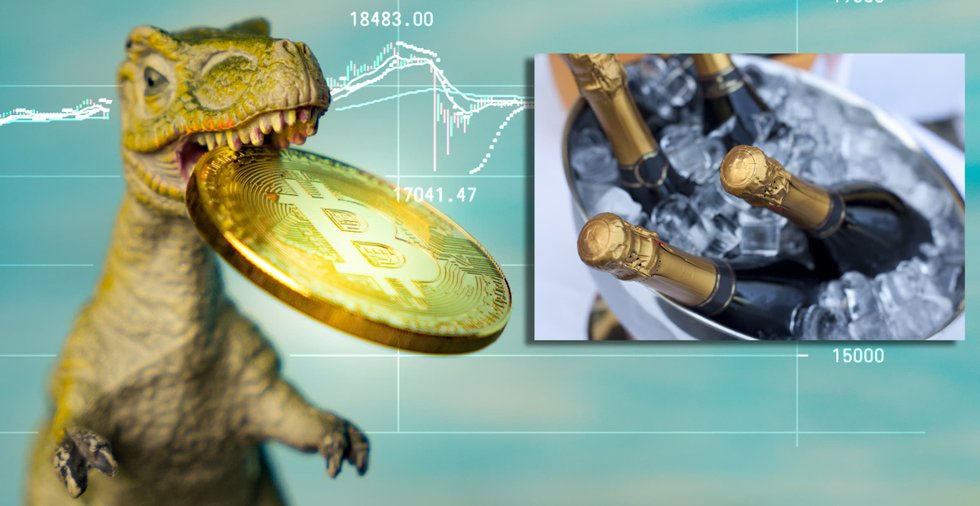 The bitcoin price is currently higher than $18,000. But during the night towards Wednesday, it was close to falling below $17,000. Trijo News has examined the night's wild price movements for the cryptocurrency.
The bitcoin price has been strong, to say the least, in recent weeks. The price of the cryptocurrency has passed $15,000, $16,000, and $17,000, and experts have begun talking about a coming bull market.
Reached a high of almost $18,500
During the night towards Wednesday CET, it was time for another milestone to be passed. Then, the bitcoin price rallied over $18,000. During the wee hours, the increases continued, and around 05.30 the price of the cryptocurrency reached a high of $18,483.
After this – around 06.30, Wednesday morning – it was time for a so-called "flash crash". In just a quarter of an hour, the price of the world's biggest cryptocurrency fell by about $1,000 to a low of $17,041.
Early Wednesday morning, the price has recovered. Right now, bitcoin is being traded for $18,168. This is an increase of more than seven percent compared to what the situation looked like a day ago, according to numbers from Bitstamp.
Short-sellers defends price level
So what is the real cause of bitcoin's sharp price movements over the past 24 hours?
According to the cryptocurrency news site Cointelegraph, there are two primary reasons why the bitcoin price crashed during the early Wednesday morning.
The first of these is that $18,500, a level that the price began to approach before the crash, is the last major level of resistance before the price record of $19,666 can be broken.
This means that it will be an important level for those who are short-selling bitcoin, i.e. betting that the price of bitcoin will fall, to keep – because they are afraid that the price will continue to rise after it has reached a new record level.
Therefore, the short-sellers increase their efforts in an attempt to prevent the price from rising. More people investing in a lower price leads to lower confidence from the market and this, in turn, can lead to a lower price.
Almost everyone is in the green
The second reason, according to Cointelegraph, is that 99 percent of all bitcoin addresses has made a profit when the cryptocurrency price is at $18,500.
This means that of those who own bitcoin at $18,500, only the ones who bought the cryptocurrency at the end of 2017, when the price was at its highest, is in the red.
When making a profit, some people feel that it is time to sell their holdings. The fact that many people sell their bitcoin can in turn lead to a lower price.
"Big boys will buy dips"
Why did the price of the cryptocurrency recover so quickly, and where will the price of the cryptocurrency go next?
According to Dan Tapiero, crypto analyst and co-founder of fund 10T Holdings, things look good for bitcoin.
He explains the recovery after the "flash crash" by saying that many institutional investors, such as investment banks and hedge funds, buy bitcoin when the price of the cryptocurrency falls.
"Big boys will buy dips now", he writes on Twitter.
Not often in life do you get to look at a chart like this one.#Bitcoin to slice through highs imminently.

3rd wave up to dwarf the 2017 move and should persist for several years.

Real fundamentals driving price unlike '17 speccy/ico retail flow.

Big boys will buy dips now. pic.twitter.com/J8Ilvk8Vs9

— Dan Tapiero (@DTAPCAP) November 18, 2020
Christian Ander believes in record price – and correction
Christian Ander, Swedish crypto personality and founder of the bitcoin exchange BTCX, believes that the cryptocurrency is about to reach its highest level ever.
After this, however, he believes that a correction will come.
"I think there will be a major correction at the beginning of next year, possibly already at the end of December, when people realize their profits. These are always good as bitcoin brings in new long-term investors and those who take out their profits are also happy and will step in again a little later", he tells Trijo News.
Dags att börja spara i bitcoin?
Hos Trijo får du Sveriges lägsta avgifter och går från registrering till bitcoin i plånboken på under 60 sekunder.
Kom igång