UK bans the sale of crypto derivatives – is met with criticism from the industry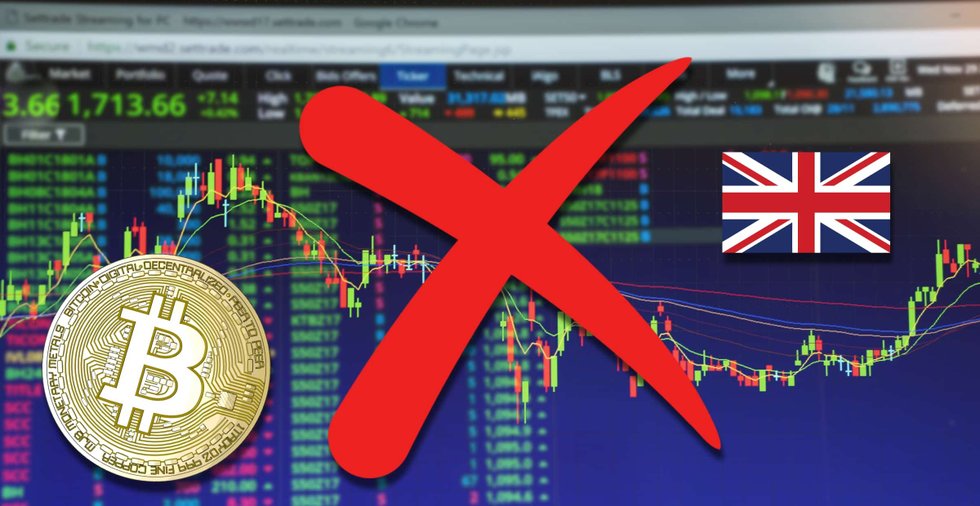 The UK's Financial Conduct Authority has developed new rules that will ban the sale of so-called crypto derivatives from next year.
The crypto industry's relationship with various regulatory authorities is a complicated story. Last week, for example, it was reported that the crypto company Ripple is threatening to leave the US due to what they think are outdated regulations.
Now there are reports of a new law – this time in the UK – which will probably not be well talked about in the crypto industry.
Follows the price of cryptocurrencies
It is the Financial Conduct Authority (FCA) which has developed new rules that prohibit the sale of so-called derivatives on cryptocurrencies to retail investors in the UK.
Derivatives are securities that are linked to an underlying asset. In short, owning a cryptocurrency derivative means owning a financial instrument that follows the exchange rate of a cryptocurrency. In this way, you can make money on, for example, the bitcoin price even though you do not own the cryptocurrency itself.
From January 6, 2021, companies – both those based in the UK and those that operate from abroad – will no longer be allowed to sell these products in the country.
Volatility behind the decision
The reason for this, according to the FCA, is, among other things, the high volatility of cryptocurrencies.
"Significant price volatility, combined with the inherent difficulties of valuing crypto assets reliably, places retail consumers at a high risk of suffering losses from trading crypto-derivatives. We have evidence of this happening on a significant scale. The ban provides an appropriate level of protection", Sheldon Mills, interim executive director of strategy and competition at the FCA, says in a press release.
Also applies to ETNs
The ban applies to all different types of derivatives offered for cryptocurrencies.
This includes derivatives where the investor invests money in the future price of the cryptocurrency, such as options, futures, and CFDs. But also derivatives where the investor simply buys a certificate that represents the value of bitcoin, so-called ETNs.
Complaints from crypto company
Last autumn, the new rules were sent out for consultation. They were then met by complaints from the British company Coinshares, which make the ETN certificate XBT Provider (which is traded on the Stockholm Stock Exchange, among other places).
An open letter to the FCA that was published after the proposed rule was published argues, among other things, that ETNs do not show the same volatility as, for example, CFDs – and therefore should be excluded from the proposal.
"We can understand that CFDs, and other tools where investors risk losing more money than they have invested, are banned. But banning ETFs is taking it a step too far", Townsend Lansing, product manager at Coinshares, says in a telephone interview with Trijo News.
According to the product manager, the new rules are due to the fact that the FCA simply believes that cryptocurrencies are not worth anything.
"What they argue for, and here we do not agree, is that bitcoin has no inherent value. Based on that argument, they have decided to ban derivatives."
"The FCA is going in the wrong direction on this issue"
When asked whether the FCA's decision will have any major negative impact on Coinshares, Townsend Lansing's answer is in the negative.
"We do not sell our ETFs to retail investors in the UK, only to institutional investors. We will be able to continue doing this. However, our British customers have been able to buy our certificates from their brokers. They will no longer be able to do that. But since we are very diversified and sell our certificates in several different countries, this will not have a material impact on us as a company", he says.
Do you see any risk that other countries will introduce similar rules?
"From our perspective, it seems that the FCA is going in the wrong direction on this issue. In both the EU and the US, it has been decided to regulate, rather than ban, this market. Therefore, we are very surprised by this decision", Townsend Lansing says.
Dags att börja spara i bitcoin?
Hos Trijo får du Sveriges lägsta avgifter och går från registrering till bitcoin i plånboken på under 60 sekunder.
Kom igång