Swedish Altpocket has 93 000 users – now they're looking for investors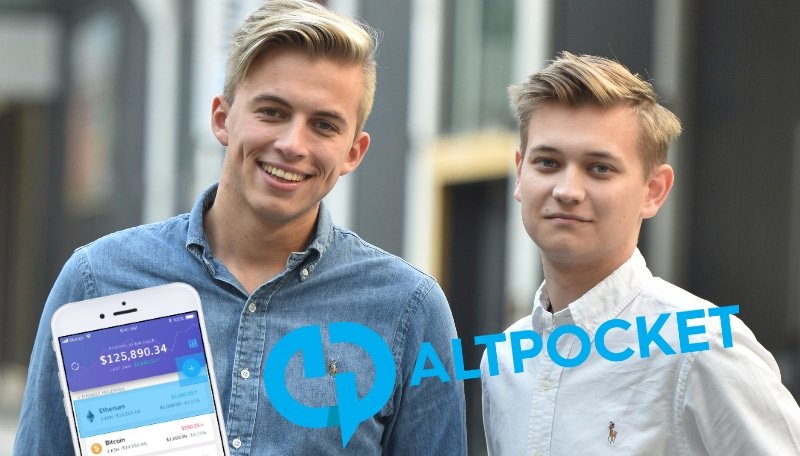 Altpocket is a Swedish startup that offers a service which helps you keep track of how your crypto investments are going. Now they are on a hunt for venture capital to expand their business.
Everything began about eight months ago when Jonathan Svensson's business partner Edwin Flataunet was paid in bitcoin for a consultancy job. That's when Edwin discovered the crypto world, which led him to buy altcoins as an investment.
"Then he noticed a problem. He had bought a coin on one site, and another coin on another site, but it was difficult to keep track of everything", says Jonathan Svensson to Trijo News.
Edwin then created a webpage that would keep track on crypto investments. In the beginning, the site was most intended to be used by Edwin himself, but after linking to the site on a web forum they quickly received very good feedback. That's how Altpocket was born.
Since then, Jonathan and Edwin have worked with the newly started company.
Altpocket makes it possible for users to retrieve information about their portfolios from some of the largest crypto exchanges in the world: Poloniex, Bittrex, Coinbase and soon Binance too.
"It's hard to keep track of your investments if you need to sign in to three or four different trading platforms to see how you are doing. Therefore, we have made a portfolio tool that simply aggregates all your investments so that you easily can get an overview", says Jonathan Svensson.
There is also a social part where users can talk to each other and where they can follow top investors' portfolios and talk about what's happening on the market right now. Further on, Jonathan Svensson also wants to offer users the possibility to trade directly on Altpocket's platform.
It's free to register on Altpocket, and it will be in the future as well. In addition to that, the company will launch a premium version in about a month and that's how they are supposed to make money. Such a subscription will cost around 10 dollars a month, according to Jonathan Svensson.
"The premium version will have a little extra. But the free version will work superbly too, even if you do not want to pay", he says.
The company recently raised money through a special offer. 500 users were given the opportunity to get a lifetime subscription for an investment of 150 dollars.
"We got 62 000 dollar, which was great", says Jonathan Svensson.
Today, Altpocket has 93 000 members, but only around 20 000 of them are active.
"This is because the market has been dipping and that we as a company have been laying low because we are in the process of making the platform more stable before we go big with marketing", says Jonathan Svensson.
25 percent of the users come from the United States, and 50 percent comes from Europe. However, there are very few from Sweden so far.
"Sweden is barely one percent, so that's a little unfortunate. But we're hoping that will change over time".
Jonathan Svensson has recently moved from Trollhättan to Stockholm. When Trijo News visits the startup it is the first day in their new offices at Sup46 at Regeringsgatan in Stockholm.
"We've been working full-time for eight months, but it's only now that we've moved to Stockholm that we can pay our first salary. It feels very exciting to be here in Stockholm right now. It feels like a good milestone. We have already been to several events, made contacts and booked meetings."
"We've been working full-time for eight months, but it's only now that we've moved to Stockholm that we can pay our first salary."
An app is also under construction och the company is currently looking for developers. They are also looking for someone who wants to invest in the company.
Jonathan Svensson admits that they have been thinking about doing an ICO, but emphasizes that in that case, it would be a very thoughtful token with a high value for the users.
Maybe one that is linked to ownership.
"What we are most proud of is our community, that they have wanted to help so much. They are the ones who have spread the word. We have spent no money on marketing. So it would be nice if we could invite them to our core business. But we do not want to make a token just because", says Jonathan Svensson.
Dags att börja spara i bitcoin?
Hos Trijo får du Sveriges lägsta avgifter och går från registrering till bitcoin i plånboken på under 60 sekunder.
Kom igång