Starflow launches Swedens first ICO – hope to raise 50 million dollars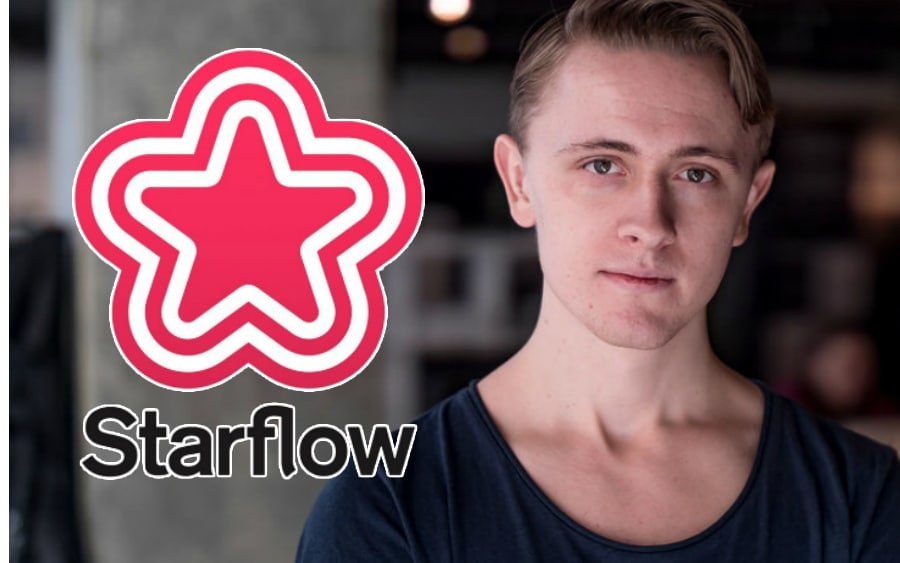 The Swedish tech company Starflow wants to make it simple for influencers to get paid for their content. Now the company launches their own cryptocurrency which is supposed to make that easier. The goal is to raise up to 50 million dollars through Sweden's first ICO.
Starflows business model is to make it easier for fans to follow their idols on social media, but also to make it easier for the influencers to make money on the content that they create.
"The values which the whales capitalize on, we want to give that back to those who produce the content so that they can get paid, and have their own hubs with followers", says David Gabor, founder and CEO of Starflow, to Trijo News.
21-year-old David Gabor comes from Södermalm in Stockholm. He founded Starflow a couple of years ago. Since then, the company has grown rapidly. Today around 20 people work at the head office at Stureplan. The plan is to launch a beta version of the platform in April.
The expansion has been made possible thanks to the venture capital that Starflow has got. So far the company has raised three million dollars from investors.
Two of the more famous investors are Fredrik Wester, founder of the Swedish gaming company Paradox, and the old Swedish tech profile Johan Staël von Holstein. David Gabor knows them both from before.
"I have a personal relationship with Fredrik Wester since before, and the same with Johan Staël von Holstein. Johan is my mentor. I know his sons very well. We've played tennis since we were young. Johan is also the one who has helped raise all the capital so far. A good mentor", says David Gabor.
Now Starflow wants to raise even more money through a so-called initial coin offering (ICO).
An ICO is a kind of crowdfunding event where a company launches its own cryptocurrency that anyone can buy. Oftentimes the purchase is done with the cryptocurrency Ether. The company then receives money, and in return, buyers receive so-called coins, or tokens, which may have different functions on the company's platform.
"Johan is my mentor. I know his sons very well. We've played tennis since we were young."
The cryptocurrency of Starflow is called "Starcoin" and is a token that is meant to be used as a method of payment on the company's platform. David Gabor explains how it works with an example.
If, for instance, Coca-Cola decides to spend 12 000 dollars on a campaign in Sweden they will first go to a media agency that has several influencers in its network. The media agency, in turn, decides how to allocate the budget and which influencers who will be contacted. The agency also charges a lot of money for it, explains David Gabor.
"Then, the influencer gets paid one to three months after the campaign. The banking transactions have fees and take a long time. What our currency does in our system is that they get paid immediately through smart contracts that allow you to link the payment to how well the campaign does", says David Gabor.
All these transactions between companies and influencers will be free of charge on the platform. It is only when the influencers want to withdraw their money in, for instance, Swedish kronor, that a five-percent exchange fee will be applied.
That's how Starflow is going to make money.
Even though the company Starflow is Swedish, the subsidiary that is issuing the "Starcoin" is based in Singapore.
Through its ICO, Starflow now hopes to raise between 30 and 50 million dollars. Almost half of the money is supposed to go to development. The rest will be distributed on marketing, legal costs and establishing new offices abroad.
However, according to Starflow's own website, only a little over 27 Ether has come in as of yet, which today is about 15 000 dollars. But the company is currently also in process of getting capital elsewhere.
"We are in talks with a few larger funds that want to cover a significant part of our pre-sale offer. This is still in process and nothing that will appear on the site for a while", says David Gabor.
Another question is what the purpose of creating the new cryptocurrency "Starcoin" really is. In theory, it would technically be possible to use Ether on the platform for the same purpose.
"We want to build Starflow, our own brand, and community, and that's not possible if we depend on someone else's successes or setbacks. We see this token as a way to value ourselves and to be judged for our own success", says David Gabor.
Is there any additional value in this coin for anyone who wants to buy it?
"It's primarily that the technology enables fast and transparent transactions and a way to take part of the development and future of Starflow. For us as a company, we are able to build our own brand. The ICO is a way of attracting capital in a whole new way."
Follow Trijo News on Telegram.
Dags att börja spara i bitcoin?
Hos Trijo får du Sveriges lägsta avgifter och går från registrering till bitcoin i plånboken på under 60 sekunder.
Kom igång