Six months after launch – Norwegian Block Exchange wants to become a bank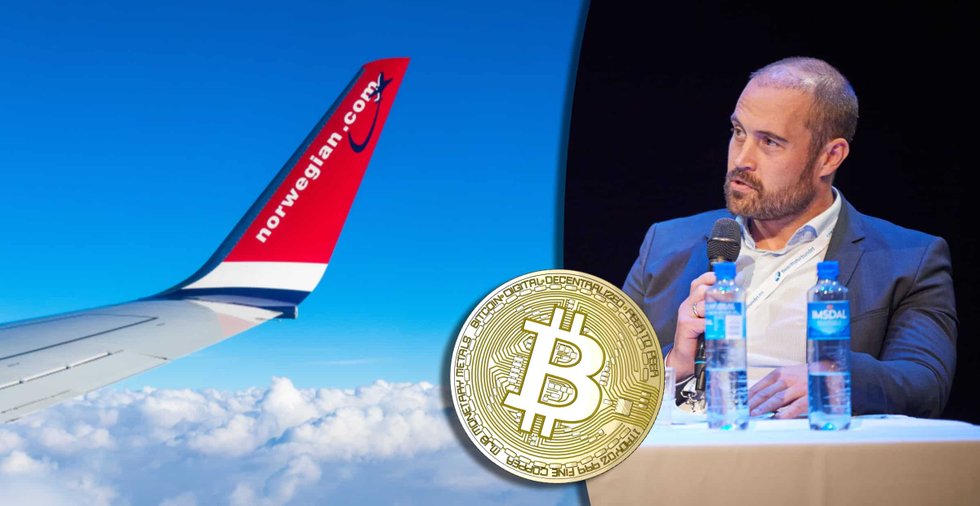 It started as a reflection on how Norwegian Air Shuttle could benefit from the new and much-hyped blockchain technology. Just over two years later, the airline's founder, the Kjos family, has launched a crypto exchange - and is now aiming at becoming a bank.
Several times before, Trijo News has written about the Norwegian crypto exchange Norwegian Block Exchange (NBX). It has perhaps received the most attention because the people that founded it, the Kjos family, also co-founded the airline Norwegian Air Shuttle.
NBX opened for Norwegian customers in March (in May it also opened for international customers). Now, they have run their crypto exchange for six months. Trijo News has therefore talked to Stig Aleksander Kjos-Mathisen, managing director of the crypto exchange, to see how the project is going.
Wanted to solve cash flow problem
But first a little history. The reason why NBX even exists is Norwegian Air Shuttle.
It all started in 2017 with Stig-Kjos Mathisen and his father Bjørn Kjos, former CEO of – and major shareholder in – Norwegian, sitting in their ski lodge and thinking about how they could apply the then very hyped blockchain technology to the airline's business model.
It was concluded that one of Norwegian's major problems had always been cash flow. Generally, airlines are owed large sums of money from purchases made with credit cards, Stig Aleksander Kjos-Mathisen says. Credit card companies often charge around 2.5 percent in transaction fees from airlines. In addition, the credit card companies withhold parts of the payment until the trip is completed. This becomes a problem in the aviation industry because customers often buy their trips well in advance.
"We came to the conclusion that if it had been possible to take all ticket sales and put it in cryptocurrencies, it would have a one-time effect of €180 million, and also save €55 million per year", he explains.
The reason the launch was delayed
It was then decided that in order to do this, one would have to be able to quickly exchange cryptocurrencies to Norwegian kroner. At this time, there was no big established Scandinavian crypto exchange, and the international players had problems with money laundering and hacker attacks. Therefore, the Kjos's saw it as necessary to start their own crypto exchange, says Stig Aleksander Kjos-Mathisen.
But the road from that decision to the actual launch was to become a long one. The reason for this was partly difficulties in getting a bank account for the business (a problem many crypto exchanges have), and partly that they built the entire site from scratch.
"We considered buying an existing crypto exchange. We even had one that everything was ready with. Then that deal collapsed due to due diligence. Then we had to build our own solution instead – and it took longer than even our most pessimistic calculations", the managing director explains.
What happened to the synergy effects?
Even before the launch, NBX, which is operated as a separate company independent of Norwegian Air Shuttle, highlighted the possible synergy effects with the airline. These are still firmly believed in – even if the initial purpose, to solve the cash flow problem, is no longer as central.
"Right now we basically have an agreement with Norwegian regarding their reward program. You earn cash points with the airline by trading on the exchange. When we started, we quickly realized that this could be more than a payment solution for the airline. That's how we became a crypto exchange. Right now, the cash flow problem is also not as central for Norwegian, due to the corona crisis. When the airline starts focusing on this again, we will help them, but right now we are focusing on other things", Stig Aleksander Kjos-Mathisen says.
What else does NBX focus on? Right now, a lot is about growing in the Scandinavian market, among other things by launching trading in currencies other than the Norwegian krone. Conducting crypto trading in for example Sweden – despite not being registered with the Swedish Financial Supervisory Authority – the CEO believes is not a problem.
"We are registered in Norway, but not in Sweden. This means that we can not market ourselves on the Swedish market. However, it is not a problem if it is the customers who come to us and not the other way around. It is the same with major international players such as Binance and Coinbase", he says.
Legacy bank among the investors
A lot of money has been invested in NBX. In addition to the Kjos family, both Norwegian Air Shuttle and Sparbanken Öst, one of Norway's oldest banks, are among the investors. A total of approximately €7,3 million has been invested in the project, Stig Aleksander Kjos-Mathisen says.
A total of 19 people work at the company, whose plans do not stop at just being a crypto exchange.
"We are investing in offering more cryptocurrencies to our customers (bitcoin, ethereum and us dollar coin are currently sold via NBX, editor's note). In addition, we have applied for a so-called e-money license to be able to offer payment solutions to, above all, e-merchants. The third thing we are working on is to be able to offer defi protocols, such as loans and savings, to our customers. Furthermore, we also see the possibilities for loans and savings in ordinary cryptocurrencies. To do that, we need to become a bank."
A bank? Tell me more!
"Starting in the fourth quarter, we will start working to get a banking license. In short, we take the platform we already have and apply with it. Then follows a review from the Norwegian supervisory authority and if we are lucky, we will be approved in September next year. The earliest we have planned to launch products that require a banking license is 2022, so it is still a long way into the future."
The crypto industry is known for being risky, so is the aviation industry. Do you simply love risk?
– No, but where there is a risk, there are also opportunities to get a good return, Stig Aleksander Kjos-Mathisen says with a smile.
Dags att börja spara i bitcoin?
Hos Trijo får du Sveriges lägsta avgifter och går från registrering till bitcoin i plånboken på under 60 sekunder.
Kom igång