New record volume for crypto trading on Paypal – here's what it may mean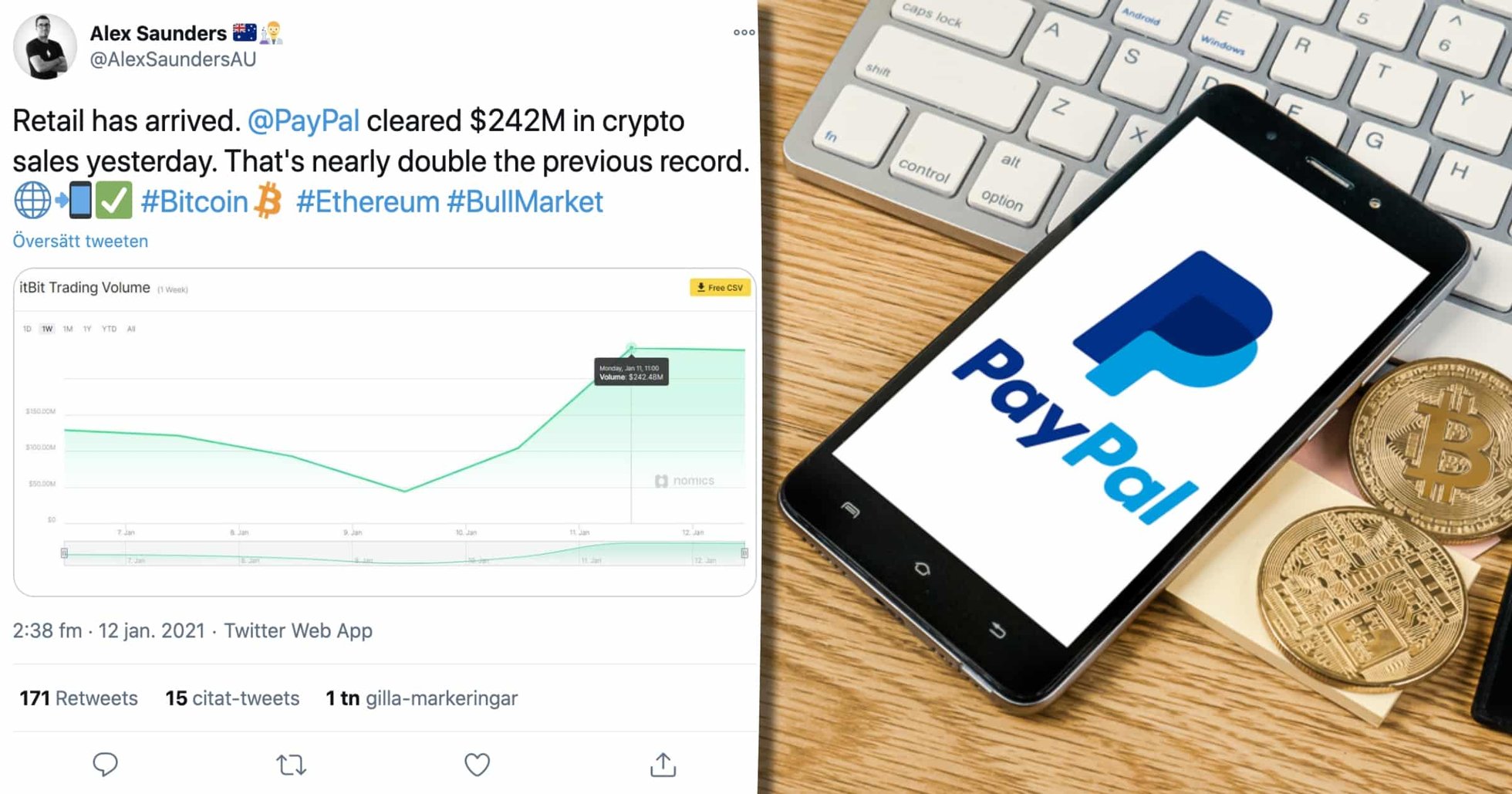 On Monday, a new record volume was set for crypto trade volume at the payment giant Paypal. The question is whether this is good or bad for the bitcoin price.
Bitcoin's current bull market can be said to have started in October. Then, the American payment giant Paypal announced that it would launch trading in cryptocurrencies for its customers.
This was seen by many as a sign that bitcoin has become increasingly accepted in the corporate world – a factor that in turn is seen as "bullish" for the bitcoin price.
Almost twice as much as the previous record
Now Paypal's US customers – so far crypto trading is only available to users in the US – are starting to trade cryptocurrencies on an increasing scale, Cointelegraph writes.
It was during Monday – at the same time as the bitcoin exchange rate underwent a major correction – that the trading volume for cryptocurrencies on Paypal reached a new record.
In total, cryptocurrencies were traded to a value of $242 million. That's almost twice as much as the previous record – something that was first noticed by crypto-journalist Alex Saunders on Twitter.
Good or bad for the bitcoin price?
A higher trading volume could be interpreted as an increase in public interest in bitcoin and other cryptocurrencies. This is because those who trade cryptocurrencies via Paypal are retail investors rather than big institutional investors.
However, this needs not be the case. Given that the price of all major cryptocurrencies fell sharply during the night towards Monday, it is possible that the high trading volume comes from retail investors who simply gave up after the crash, Cointelegraph writes.
One who raises this theory is Twitter user Toomas Zobel.
"In this huge dump, it may just be retail sellers capitulating rather than creating buying pressure", he writes in an answer to Alex Saunders.
Is there a way to view whether this was buy or sell volume? In this huge dump, it may just be retail sellers capitulating rather than creating buying pressure (although capitulation is also good😼).

— Toomas Zobel (@toomaszobel) January 12, 2021