Massive criticism of CCN after the shutdown and resurrection: "PR stunt"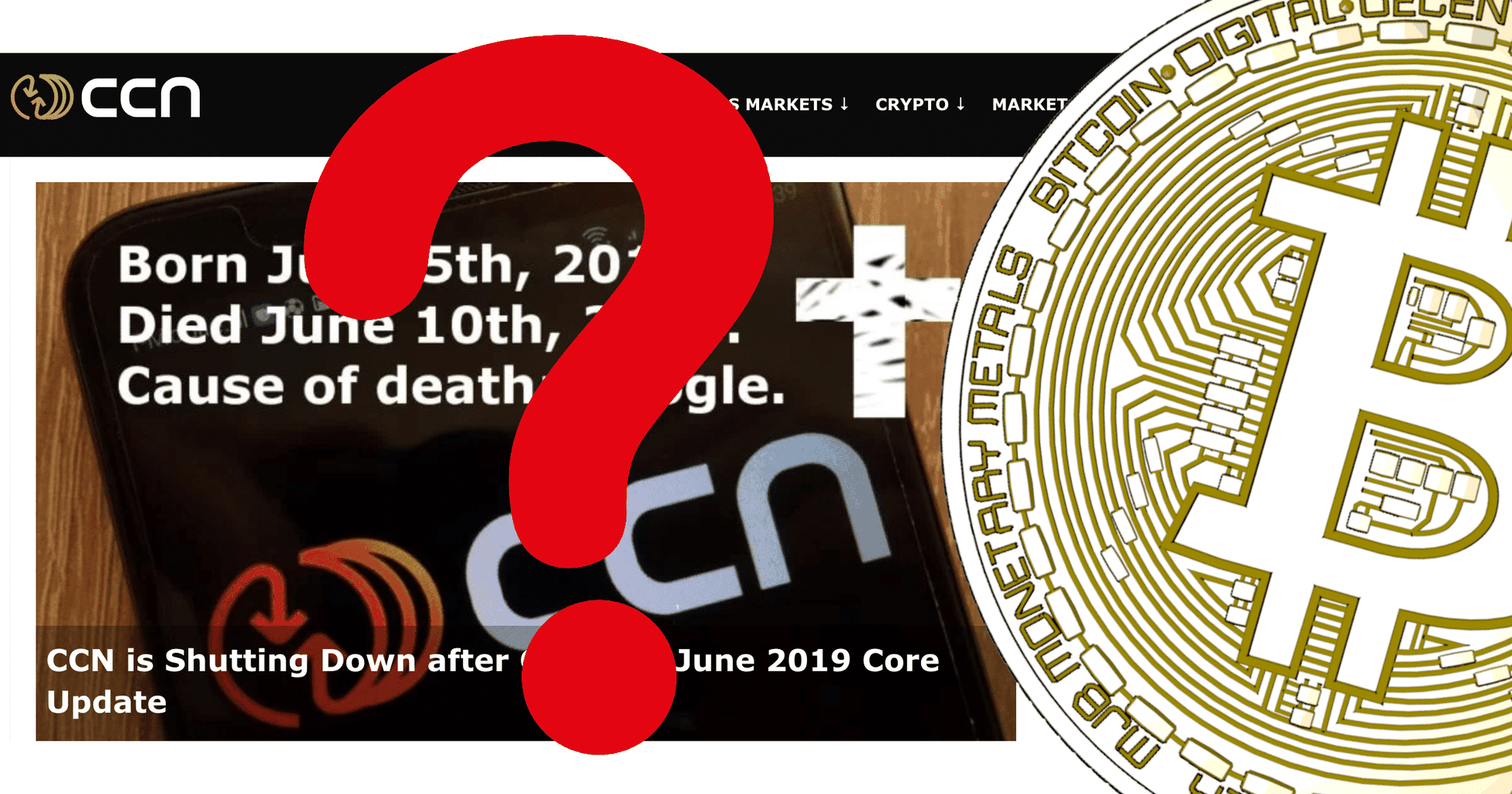 First they shut down – now they have resurrected. Trijo News reviews everything that has happened to the talked about crypto news site CCN.
On Monday, the crypto news site CCN announced that they are shutting down their business. The reason was said to be Google's new update which was rolled out on June 3 and which reportedly caused the site's traffic from Google searches to drop by "more than 71 percent on mobile overnight".
CCN founder Jonas Borchgrevink attacked Google in a long dramatic text.
On Wednesday, however, CCN made a u-turn – and announced that the site will not be shut down at all.
"CCN.com is back", the founder wrote in a new article on the site.
The reason this time was said to be that Google's algorithms had again had unexpected consequences.
"CCN.com is back"
Among other things, CCN's old domain, cryptocoinsnews.com, has reportedly begun to reappear in Google searches, even though Borchgrevink personally requested a domain name change to CCN.com back in 2017.
"Now it's back and is inexplicably using recent 2019 articles from CCN.com. This is abrupt and confusing", Jonas Borchgrevink wrote on Wednesday.
Google responds to the allegations
Exactly why CCN's traffic was affected by Google's update is not fully clear. Many other crypto news sites, such as Cointelegraph, were not affected as hard by the update. For Trijo News, the update was on the contrary positive. The news site has seen both a visibility and traffic increase of 28 percent after the update.
In an email interview with Forbes, Google has also responded to the allegations of blacklisting some crypto news sites.
"With any update, some sites might not perform as well as in the past, while other sites might perform better", a representative from Google wrote in an email to Forbes.
The representative also pointed out that Google previously has answered questions about sites that began to perform worse.
"There's nothing wrong with pages that may now perform less well. Instead, it's that changes to our systems are benefiting pages that were previously under-rewarded", Google wrote on Twitter back in March 2018.
Should have been better prepared
Other people have also defended Google's actions. For example, the crypto writer Proofmaster writes that it is not news that Google is making changes and that CCN should have been better prepared.
"When Google decides to change the rules you either adapt or move on because there are other players on the sidelines just waiting to take your place. Since they have been playing the game for almost seven years they should have known that rules are changing constantly and they should have been ready to adapt", Proofmaster writes on Steemit.
Have not answered questions
Trijo News has sent questions about the shutdown of CCN to the founder Jonas Borchgrevink but has not yet received an answer.
The questions were, among other things, about why they chose to shut down the entire site only a week after Google's update and why they have made themselves so depended on traffic from Google.
According to Swedish SEO expert Per Nilsson, CCN is a so-called "YMYL" site. YMYL stands for "Your money, your life" and concerns websites that contain sensitive information that can risk people's lives or finances. One such type of site is a site that reports financial news. According to Nilsson, such websites must at present have an exceptionally high E-A-T.
E-A-T stands for "expertise, authoritativeness, trustworthiness" and is a meter of what each site needs in terms of quality to rank high in Google's search results.
Whether CCN may have lost trustworthiness in Google's eyes or whether the shutdown and resurrection play was just a way of getting attention are questions that are still awaiting answers.
Criticism in social media
It is still unclear how all this will affect the credibility of CCN, but judging from the reactions in social media, people are critical, to say the least, of the actions of the crypto news site.
Just kidding, we're not actually abruptly closing now that we got all this free news coverage! Our old link works fine.

What a PR stunt. 👎 @CCNMarkets https://t.co/p4QieElnoC

— Mitchell Moos (@MitchellMoos) June 12, 2019
Update on this – CCN 'shutting down' was all a big stunt as it turns out, so yeah. Pretty much validates my argument I'm making of the utter lack of value they bring to this space. https://t.co/jxsEcQrNMg

— Nathaniel Whittemore (@nlw) June 12, 2019
Two days ago – Google killed us, it's all their fault
Now – Never mind, we fixed it.

Great stunt guys!

— Larry Cermak (@lawmaster) June 12, 2019
I did cover a news about it.

Yes, I feel it was completely a marketing stunt, the way they reported their coming back story says it all.

They gained back their lost traffic, only Coindesk coverage on CCN was enough to let other media cover a news on CCN with fresh content.

— Tabassum (@Tabassumnaiz) June 13, 2019