Markets continue to fall – $18 billion disappeared on Monday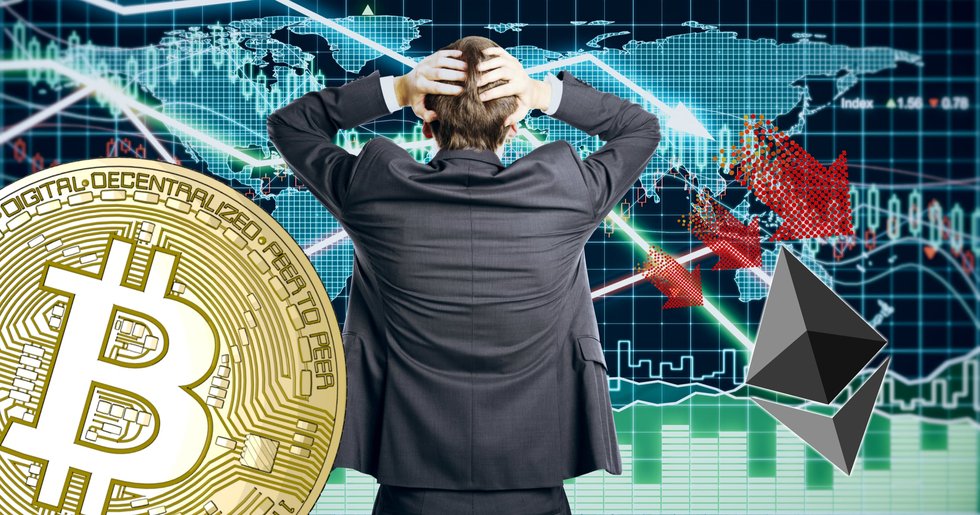 The total market cap for all cryptocurrencies continues to decline. Over the past 24 hours, ethereum has dropped more than ten percent.
The crypto markets have been in a downward trend since the beginning of 2018. In January this year, the total market cap for all cryptocurrencies was around $830 billion, while today the market cap is $169 billion – a decline of almost 80 percent.
Over the past seven days, the markets have dropped $45 billion and last week, the markets lost $20 billion in one day.
Markets continue to fall
During Monday, the crypto markets continued to fall by $18 billion. The third biggest cryptocurrency ethereum (-11,99%) lost more than ten percent. One ethereum is currently traded at around $154. This means that ethereum has dropped nearly 90 percent from the top around $1,400 at the beginning of the year.
The price for bitcoin has reached a new year low at $5,180. Other currencies like stellar (-10.31%) and xrp (-7.44%) have also declined in prices, according to Coinmarketcap.
Some speculate that the decline in the crypto markets is partly due to bitcoin cash which made a network update on November 15th through a so-called hard fork.
Competition to get the most mining power
The hard fork of bitcoin cash ended with a split to "bitcoin cash abc" (-17,84%) and "bitcoin cash sv" (-25,13%). Now, both cryptocurrencies are competing against each other. They are competing about becoming the biggest currency in a so-called "hash war", a competition to get as much mining power as possible. Since the hard fork, the price for bitcoin cash has dropped about 40 percent, according to data from Binance.
"I didn't sleep well last night. There's a small chance that, it's difficult to estimate, that something really bad could happen related to bitcoin cash that could then impact the entire crypto market", Travis Kling, founder of the hedge fund Ikigai, told Newswire, Bloomberg reports.
Hard forks and network splits destroy long-term value
After the competition between "bitcoin cash abc" and "bitcoin cash sv" on the network update, critics are attacking cryptocurrencies, saying that hard forks and network splits, which is when a cryptocurrency divides itself, destroys the long-term value of the cryptocurrency and shows that there is still a lot of uncertainty in the crypto market, Bloomberg writes.
Dags att börja spara i bitcoin?
Hos Trijo får du Sveriges lägsta avgifter och går från registrering till bitcoin i plånboken på under 60 sekunder.
Kom igång