Financial authorities in two countries issue warnings about MLM company Jubilee Ace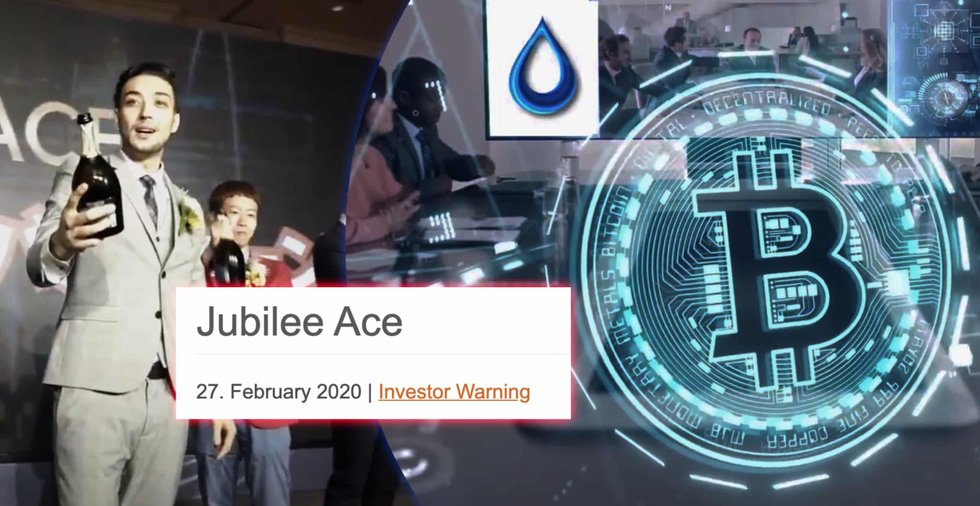 If you look under the hood of MLM company Jubilee Ace, you quickly notice that there is a lot of things that smell fishy.
Trijo News has previously written a lot about various kinds of fraud and suspected pyramid schemes related to cryptocurrencies.
On the one hand, we have written several articles about scams called things like Bitcoin Code that use celebrities in their marketing.
On the other, we did a deep dive into Crowd1, a Swedish-led multi-level marketing (MLM) company that promises its members big profits – but that has also come under the eye of authorities in several countries.
Claims to offer arbitrage trading
Trijo News can now report on another crypto-related MLM company, which the Swedish Financial Supervisory Authority warns about.
The company is called Jubilee Ace, is based in the British Virgin Islands, and claims to offer so-called arbitrage trading (to make money from market imbalances) with the help of cryptocurrencies and artificial intelligence.
To take advantage of this trade, users must pay between $1,000 and $50,000. For this money, users receive credits that, according to the company, give an interest rate of between 0.08 and 2.7 percent per day, depending on the level you purchased and if you keep your credits yourself or with the company.
There is no evidence whatsoever that Jubilee Ace is actually investing its members' money. In addition, this system does not appear to be entirely legal. The Swedish Financial Supervisory Authority's warning about Jubilee Ace refers to a message from the authority's counterpart in Austria. In this, the public is reminded that the company is not allowed to perform banking services that require a license in the country.
Pyramid scheme or legal MLM?
As is customary in MLM, Jubilee Ace members can also earn money by recruiting new members. These then send money up the chain when they recruit members themselves, according to a review by Behind MLM, a site that looks into pyramid schemes and MLM companies.
The difference between legal MLM and pyramid schemes is often delicate. Legal MLM companies, such as Herbalife and Mary Kay, are also built up as pyramids where new members send money up the chain. But unlike illegal pyramid schemes, they offer, in addition to membership acquisition, sales of actual products.
When it comes to Jubilee Ace, there seems to be no product at all to talk about – the company's offer is entirely that of new members sending money up the chain.
Jubilee Ace may have hired actors
On its website, the company has posted pictures and information about its CEO, a man called Tony Jackson. If you look closer at the CEO, however, you quickly notice that something is not right, Behind MLM reports.
Tony Jackson does not seem to exist. There are no digital footprints explaining who he is. Except in Jubilee Ace's own material, he does not appear anywhere on the internet.
On Youtube, the company posted a video from an event that took place last spring in Macao, China. At this event, the man the company refers to as Tony Jackson appears.
However, according to Behind MLM, it is not entirely unbelievable that this man is an actor hired by the company to play the role of CEO. It is a method previously used by similar companies in Asia.
According to Totte Löfström, CEO of the Swedish crypto exchange Trijo and cryptocurrency expert, Jubilee Ace is most likely a fraud.
"I have come in contact with Jubilee Ace a lot recently, and the interest from Swedes seems to be increasing very quickly right now. In my opinion, this is pure fraud in the form of a pyramid scheme and if you send your money to the company, the risk is very high that you will lose it. The thing with this type of fraud is that existing members are paid with money from new members. Thus, no new value is created in the company. I'm 99 percent sure that this is a scam", he tells Trijo News.
Dags att börja spara i bitcoin?
Hos Trijo får du Sveriges lägsta avgifter och går från registrering till bitcoin i plånboken på under 60 sekunder.
Kom igång