Crypto fund manager Eric Wall bets $1 million that the "stock-to-flow"-model is wrong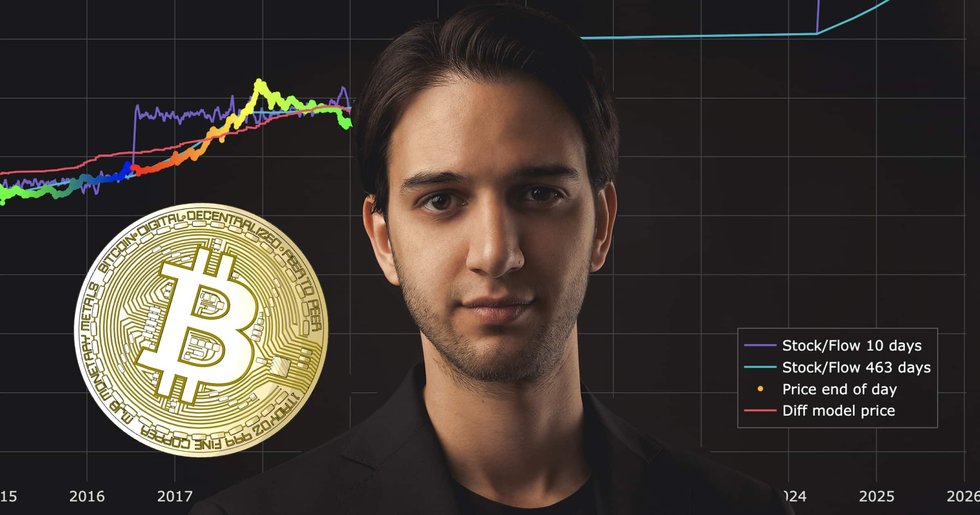 The Swedish cryptocurrency personality Eric Wall, chief investor at Arcane Crypto's cryptocurrency hedge fund, is prepared to bet one million dollars that the so-called "stock-to-flow" model's price predictions for bitcoin will not come true.
The so-called "stock-to-flow" model has been a popular, but also controversial, way of predicting bitcoin's future price movements since it was introduced in 2019 by the anonymous crypto analyst Plan B.
The model provides a value that is based on the fact that the actual value of bitcoin should constantly rise because supply is limited and inflation rises at halvings. The model, according to the theory's followers, is strongly correlated with bitcoin's actual price. If the model is correct, the bitcoin price will have reached a value of over one million dollars by mid 2025, numbers from Digitalik.net show.
Willing to put away money
One of the model's biggest critics is the Swedish crypto personality Eric Wall, chief investor at Arcane Crypto's cryptocurrency hedge fund. Now he has offered Plan B – or any of his many followers – a daring bet.
This weekend, Plan B wrote a tweet saying that he has no doubt that his model works. In response to this, Eric Wall published a tweet on Wednesday in which he says he will bet $1 million that the anonymous crypto analyst is wrong.
The Swede's definition of the scenario where Plan B is wrong is that the bitcoin price within five years has not reached 50 percent of the model's target. He also writes that he is prepared to set the money aside at a third party's custody while the bet is in progress. Anyone – not just Plan B – can participate.
Not uncertain? I bet $1,000,000 that the S2FX model will be broken less than 5 years from now.

This is not a joke. I'm willing to lock up the money for it with a 3rd party we both trust, and you must too.

I define "broken" = "it won't have reached even 50% of its target range". https://t.co/vmDO5UkQoO

— Eric Wall (@ercwl) November 11, 2020
Eric Wall: "Mathematical hocus pocus"
With the bet, Eric Wall wants to show just how confident he is that Plan B's model is wrong.
"Any quack can create an anonymous Twitter account and create hype around colorful pricing models with a little mathematical hocus pocus. For it to mean anything, skin-in-the-game is required", he tells Trijo News and continues:
"I am tired of ending up in endless discussions with people who will never understand the difference between correlation and causality. I, therefore, offer a bet, because it speaks a clear language that everyone understands."
Believes that Plan B is too optimistic
Eric Wall explains that he thinks that Plan B's model is far too optimistic.
"For Plan B to be right, bitcoin has to reach a total market capitalization of $90 trillion. I am optimistic about bitcoin and can definitely imagine that bitcoin is an asset class in the class of gold in five years, but then we are still talking $9 trillion, not 90. The projection is too high and too early. Not even if bitcoin absorbed all the world's currencies would it reach $90 trillion."
If you are wrong, you have to pay, but then bitcoin has also risen significantly in price. If you own some bitcoin yourself, you can take it out from the profit you have made. Is this bet just a hedge for you?
"I have suggested that we hand over the money to a third party in connection with the bet being made, but it is true that it is a hedge. But Plan B means that his model is more or less a mathematical fact and that he does not have the slightest doubt. In that case, he does not mind accepting the bet, I think. What would he lose by winning money from me, even though I might make up the loss elsewhere? He's still going to make $1 million, and that's just free money. If he is correct that it's a mathematical fact. Maybe it's my idea with the bet, to prove that it's not a mathematical fact at all."
Dags att börja spara i bitcoin?
Hos Trijo får du Sveriges lägsta avgifter och går från registrering till bitcoin i plånboken på under 60 sekunder.
Kom igång