Bitcoin's price keeps going up – here is what it may be due to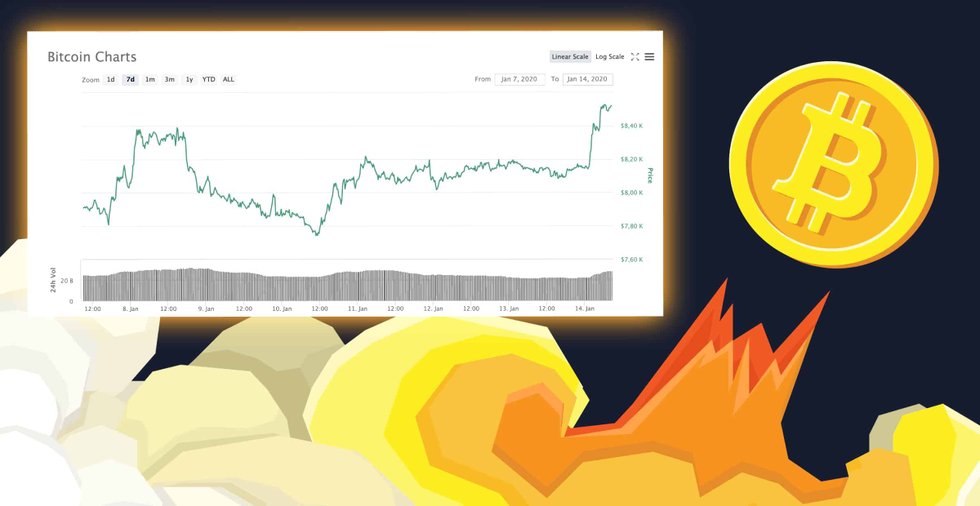 The bitcoin price is rallying right now, but why is that? And how far up will it continue? Trijo News is trying to find answers.
Bitcoin has had a really good start to the week. Monday began strongly at price levels around $8,000, and during the night to Tuesday, the price of the world's biggest cryptocurrency rose to $8500. Over the past 24 hours, the bitcoin price has increased by about five percent, numbers from Coinmarketcap shows.
The increases came after Trijo News yesterday reported that increased trading volumes could lead to a new bull market for bitcoin, and the question is whether this is what we are seeing right now.
Consolidates over important resistance level
But what exactly has caused the bitcoin price to skyrocket in recent days? And what needs to happen for it to keep moving upwards?
This is obviously difficult to say with exact certainty, but the Twitter user Filbfilb, which writes analysis columns for Cointelegraph, believes to have part of the answer.
"The bitcoin price is currently consolidating over $8,000, which is one of the most important levels of resistance. If this is successful, the price can go up to $9,500 and maybe even $10,100", he writes in his latest text.
New futures contract
One reason why this consolidation with subsequent price increases is happening right now may be that the Chicago-based stock exchange CME Group on Monday released a new futures contract for bitcoin trading. At least that is what Nikolaos Panigirtzoglou, managing director for global market strategy at the investment bank JP Morgon, believes.
"The unusually large activity in recent days is very likely to reflect the high expectations from investors for CME Group's new futures contract," he writes on Bloomberg.
The altcoins have also performed well over the past 24 hours. The world's second-biggest cryptocurrency, ethereum ($149), has increased by about 3.5 percent. Number three on the list, xrp ($0.21), has increased by about 2.1 percent, according to numbers from Coinmarketcap.
Dags att börja spara i bitcoin?
Hos Trijo får du Sveriges lägsta avgifter och går från registrering till bitcoin i plånboken på under 60 sekunder.
Kom igång