Bitcoin price jumps $1,000 within 30 minutes – new price record for April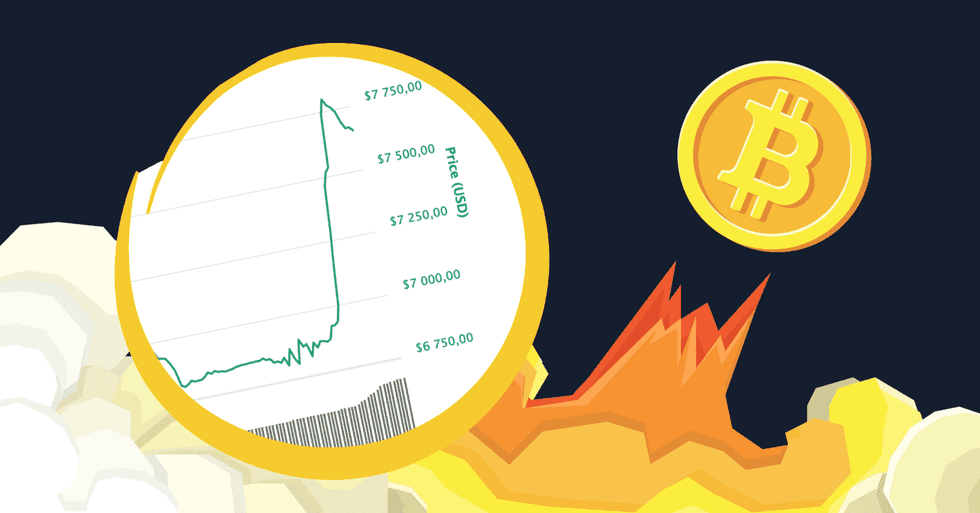 On Thursday, bitcoin went wild. The price of the cryptocurrency rose over $1,000 within 30 minutes – and broke the $8,000 level for the first time since late March.
At the beginning of Thursday, the price of bitcoin was below $6,900. But during the day, it started to go up quickly and rose 17 percent to over $8,000 – all within 30 minutes.
That is a new price record for April.
The traders who had bet against that the price would go up, so-called "shorts", got "squeezed" when the price soared. They then were forced to cover their short positions and buy back into the market. About 40,000 bitcoins were shorted, according to reports.
"The ratio of short margin trades versus longs has been increasing recently. Buying volume ticked up today and a lot of these short trades got liquidated, helping fuel the rally", said Nick Kirk, quantitative developer and data scientist at Cypher Capital, a cryptocurrency trading firm, to CNBC.
Why bitcoin started to soar is currently unclear, but it may be because an institutional investor has entered the market.
For example, last week, Trijo News reported that several big investors, like billionaire George Soros and the venture capital company Venrock, which is owned by the wealthy American family Rockefeller, are interested in investing in cryptocurrencies.
"A lot of these short trades got liquidated, helping fuel the rally"
At the crypto exchange Bitstamp, the order book was quickly swallowed during the rally on Thursday. Trading volumes of tens of bitcoins disappeared within seconds, something that requires a lot of capital.
The bitcoin price topped out at a little over $8,000 and has since then fallen back a couple of hundred dollars. It also seems to have stabilized there. Trading volumes are also down at normal levels again.
Dags att börja spara i bitcoin?
Hos Trijo får du Sveriges lägsta avgifter och går från registrering till bitcoin i plånboken på under 60 sekunder.
Kom igång