Biggest price increase for bitcoin after New Year's Eve since 2012 – here is what it may be due to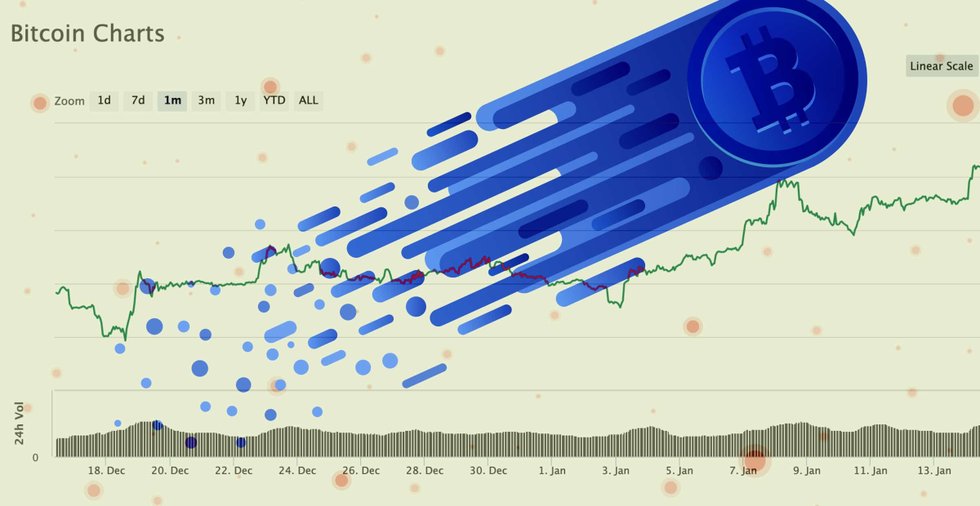 The price of bitcoin has not gone up this much at the start of a year since 2012. At the same time, several altcoins are rallying to record levels. One reason may be increased investor confidence.
Bitcoin has had a good start to 2018, to say the least. After the price of the world's biggest cryptocurrency reached $8,000, it has continued to rise. Bitcoin is currently trading at $8,666, according to numbers from Coinmarketcap.
Biggest price increase since 2012
However, the current rate is a decrease of a few hundred dollars compared to the night to today, when the bitcoin price went above $8,800. This was a 23 percent increase over the price level on New Year's Day, Coindesk reports.
If 23 percent sounds a lot, that's because it is. It's the biggest increase bitcoin has made in the first two weeks of a year since 2012, the Wall Street Journal writes.
Bitcoin's record growth coincides with an upturn in the altcoin market. Yesterday saw very big price increases for cryptocurrencies such as the controversial bitcoin SV.
Investors have greater confidence in cryptocurrencies
What the price increases are due to is difficult to say. But the upswing comes at the same time as professional investors seem to gain greater confidence in the crypto market, Forbes reports.
The crypto company Bitwise Asset Management has done a survey together with the finance website ETF Trends. In this, 400 accredited investors have been asked whether they put their customers' money in cryptocurrencies.
This year, 13 percent of investors answered yes, which is a big increase compared to last year when only six percent did.
The biggest reason why more investors choose cryptocurrencies is allegedly the high return that investments in these can provide, Forbes writes.
Dags att börja spara i bitcoin?
Hos Trijo får du Sveriges lägsta avgifter och går från registrering till bitcoin i plånboken på under 60 sekunder.
Kom igång