Analysts predict next bitcoin bull run will be smaller than in 2017 – but doesn't present solid arguments for why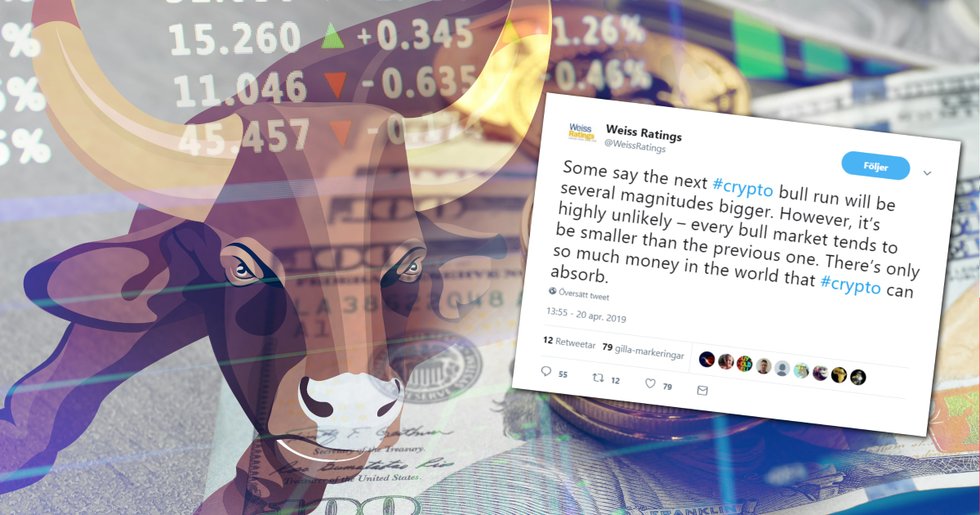 The reputed analytics firm Weiss Ratings tweeded that the next crypto bull run will likely be smaller than the one we saw in 2017. However, the arguments they present for this conclusion doesn't seem to be correct.
The well-known investment analytics firm Weiss Ratings has been around since 1971 and have made a name for themselves when it comes to analyzing and ranking different kinds of assets. This covers everything from stocks and funds to other assets like cryptocurrencies. Most recently they made the news when they published a list where they ranked a large number of crypto assets based on things like usability and market positioning.
Now, the company has once again given their thoughts on cryptocurrencies, but this time it was in the form of a tweet warning potential investors. According to Weiss Ratings, the next crypto bull run will most likely not be as big as the one we saw back in 2017. As the only argument for this conclusion, Weiss Ratings writes that each bull market tends to be smaller than the previous one. They also add that there is only so much money in the world that can be absorbed by the crypto industry.
Some say the next #crypto bull run will be several magnitudes bigger. However, it's highly unlikely – every bull market tends to be smaller than the previous one. There's only so much money in the world that #crypto can absorb.

— Weiss Ratings (@WeissRatings) April 20, 2019
Unclear reasoning
Unfortunately, Weiss Ratings doesn't explain their reasoning more than this. As many point out in the comments below the tweet, the whole base of their conclusions contradicts how cryptocurrencies have behaved during previous bull runs.
If you, for example, take a look at the log scale graph for bitcoin between 2013 and 2019, it is clear that the highs tend to be higher for every bull market. And the same is true for bull markets as far back as 2011.
As a matter of fact, not even the traditional financial markets behave in the way Weiss Ratings describes in their tweet. If we instead take a look at the American stock market index S&P 500, the reality seems to be the direct opposite of what Weiss Ratings states: each bull run tends to go quite a lot higher than the previous ones did.
Trijo News has tried to reach Weiss Trends for a comment but has not received any reply.
Dags att börja spara i bitcoin?
Hos Trijo får du Sveriges lägsta avgifter och går från registrering till bitcoin i plånboken på under 60 sekunder.
Kom igång