After another deleted video – Ivan on Tech quits streaming on Youtube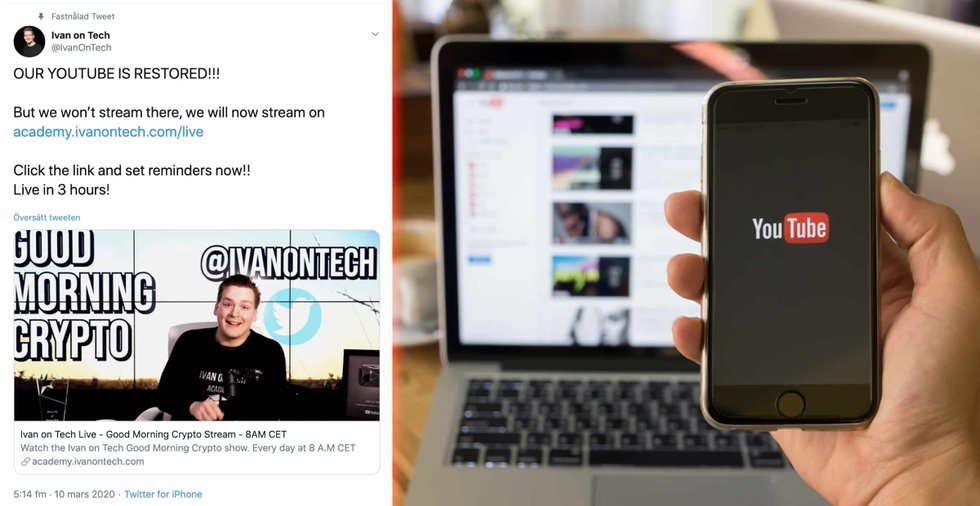 Swede Ivan Liljeqvist's channel has gotten hit for a third time in Youtube's ongoing removal of crypto content. Now, he chooses to leave the platform, at least for a certain part of his content.
At the end of last year, Youtube attracted attention of the negative kind as it took down large amounts of crypto-related content.
In addition to this, warnings were distributed to several big crypto accounts. If an account receives three warnings, it is taken down from Youtube. After major protests from the crypto world, the content came back, the warnings disappeared and Youtube apologized.
Ivan on Tech hit for the third time
However, the story did not end there. A couple of weeks ago, Ivan Liljeqvist, the Swede behind the popular channel Ivan on Tech, received a new warning.
The problem was resolved after a few days and the warning disappeared. But now the same thing has happened again, Cointelegraph reports.
Ivan Liljeqvist once again got one of his videos removed on Monday. In addition to this, he received a new warning from the platform. The same thing happened to The Moon, another big crypto account on the platform.
Ivan Liljeqvist's video came back, and his warning disappeared, after just one day.
Leaves Youtube for Vimeo
The latest deleted video has made Ivan Liljeqvist choose to leave Youtube, at least when it comes to the popular livestreams he posts every morning.
It is livestreams that have been taken down by Youtube, and these will henceforth be broadcast on Vimeo, Ivan Liljeqvist writes on Twitter.
OUR YOUTUBE IS RESTORED!!!

But we won't stream there, we will now stream on https://t.co/pD2dItWjDv

Click the link and set reminders now!!
Live in 3 hours!

— Ivan on Tech (@IvanOnTech) March 10, 2020
Dags att börja spara i bitcoin?
Hos Trijo får du Sveriges lägsta avgifter och går från registrering till bitcoin i plånboken på under 60 sekunder.
Kom igång